SAMSUNG 55"INCHE Full HD CURVE SMART TV [UA55J6300]
UA55J6300
Warning: Last items in stock!
Availability date:
Curve FHD
Samsung Tizen
Auto Depth Enhancer
Realistic viewing with automatic depth enhancement
Flat images come to life for a surreal viewing experience with Samsung's Auto Depth Enhancer. Your Samsung Curved TV will give you a greater feeling of depth by applying different levels of contrast enhancement to different areas and objects of the screen, making your entertainment more immersive and enjoyable. Cinematic shots of deep majestic valleys or mountain tops with sweeping panoramas seem even more breathtaking. You truly have to see it to believe it.
Surround your senses and be part of the action
Samsung's revolutionary Curved TV takes you into the new world of immersive viewing and makes you feel as though you are right in the middle of the action. The screen is curved at the right angle to provide the best viewing distance for your living room. Also, the gently curved screen gives you uniform and balanced viewing from all areas of the screen. See the finest picture quality, depth and detail a screen has to offer.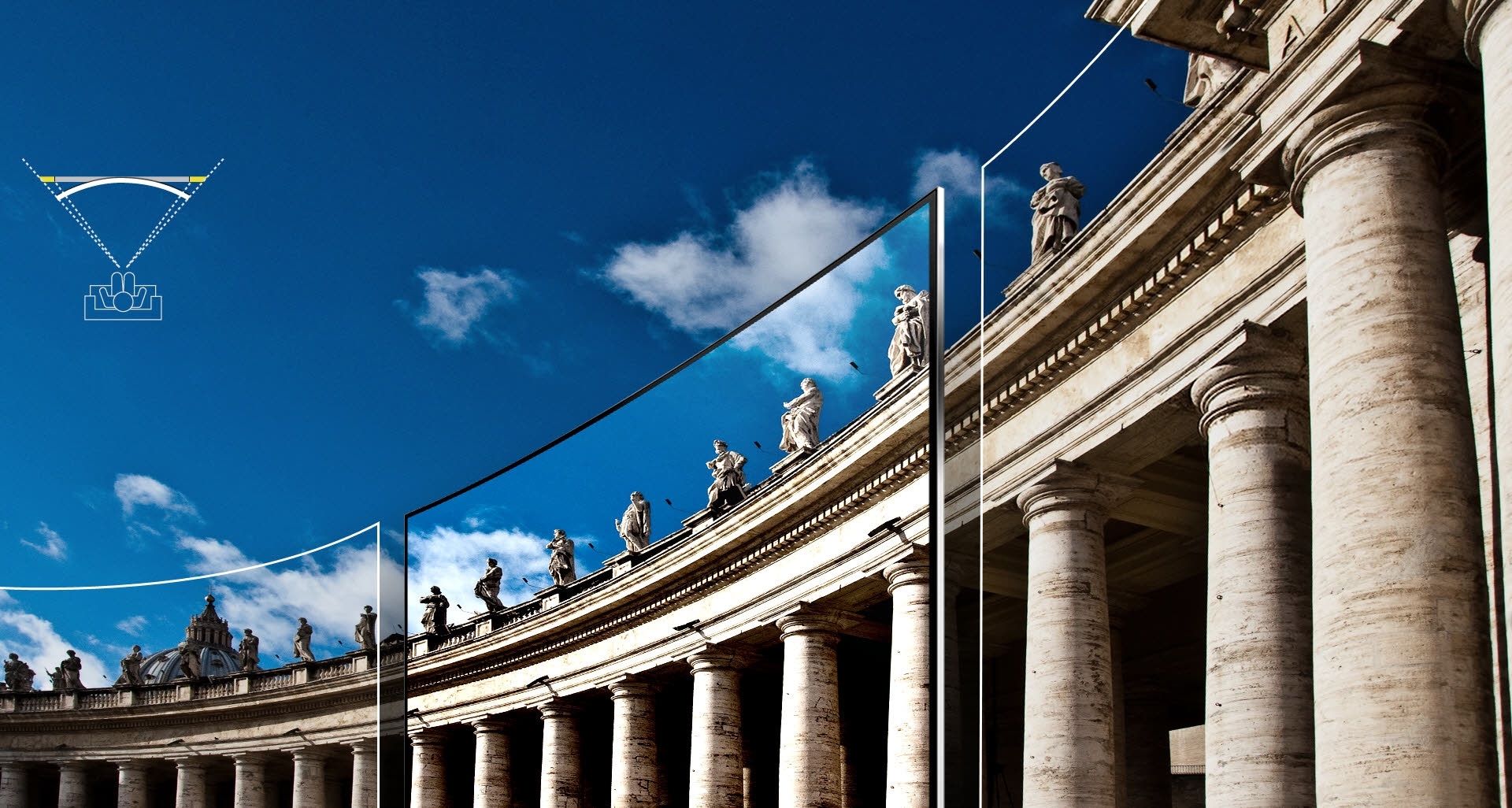 A truly beautiful TV highlighted by a new sleek metallic curve design
Samsung curved TVs don't just provide the most optimised immersive experience available, they also look fabulous. The J6300 features a premium metal strip along the bottom that adds a lustrous texture to the identity of the curve and makes the panel even more beautiful. It even emphasises the inward sloped chamfered bezel, which accessorises your entire room while drawing your eyes naturally into the action for heightened immersion. It's beautiful to look at and even better to watch.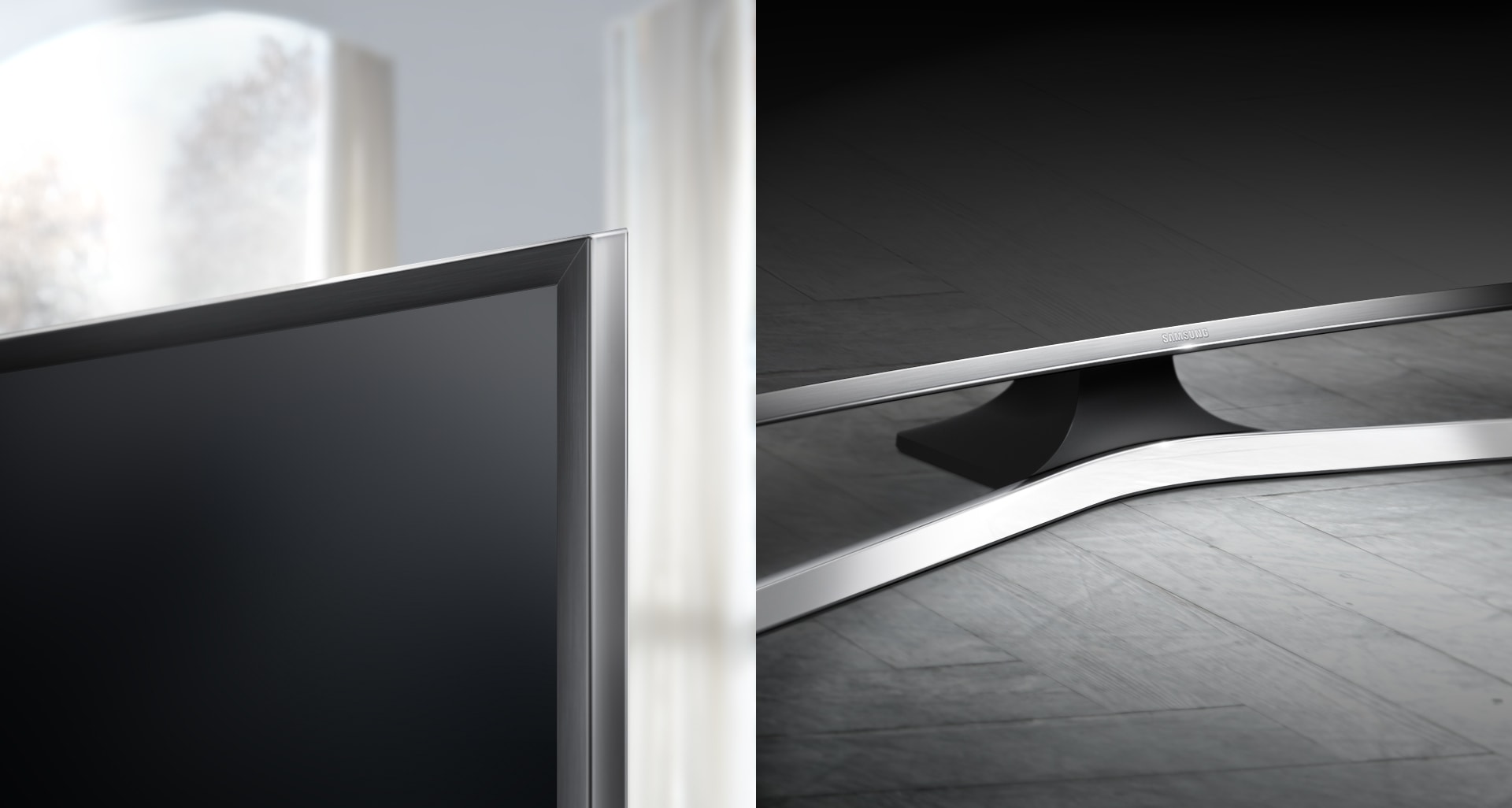 Smart TV redefined for 21st century lifestyles
The all new Samsung Smart TV is so easy to use, you don't even have to think about it. The enhanced UI is so incredibly intuitive, and chock full of fun entertainment and features that really matter to you—like a personalised daily briefing, and the ability to share content between your big screen and mobile devices with just one click. It even remembers what you were watching last so you can return to it right away. And because it runs on the all new Tizen OS— the first open-source platform to be used on TVs —you'll have an endless supply of entertainment content to enjoy. Samsung Smart TV is truly the ultimate entertainment hub, and the perfect companion to match your lifestyle.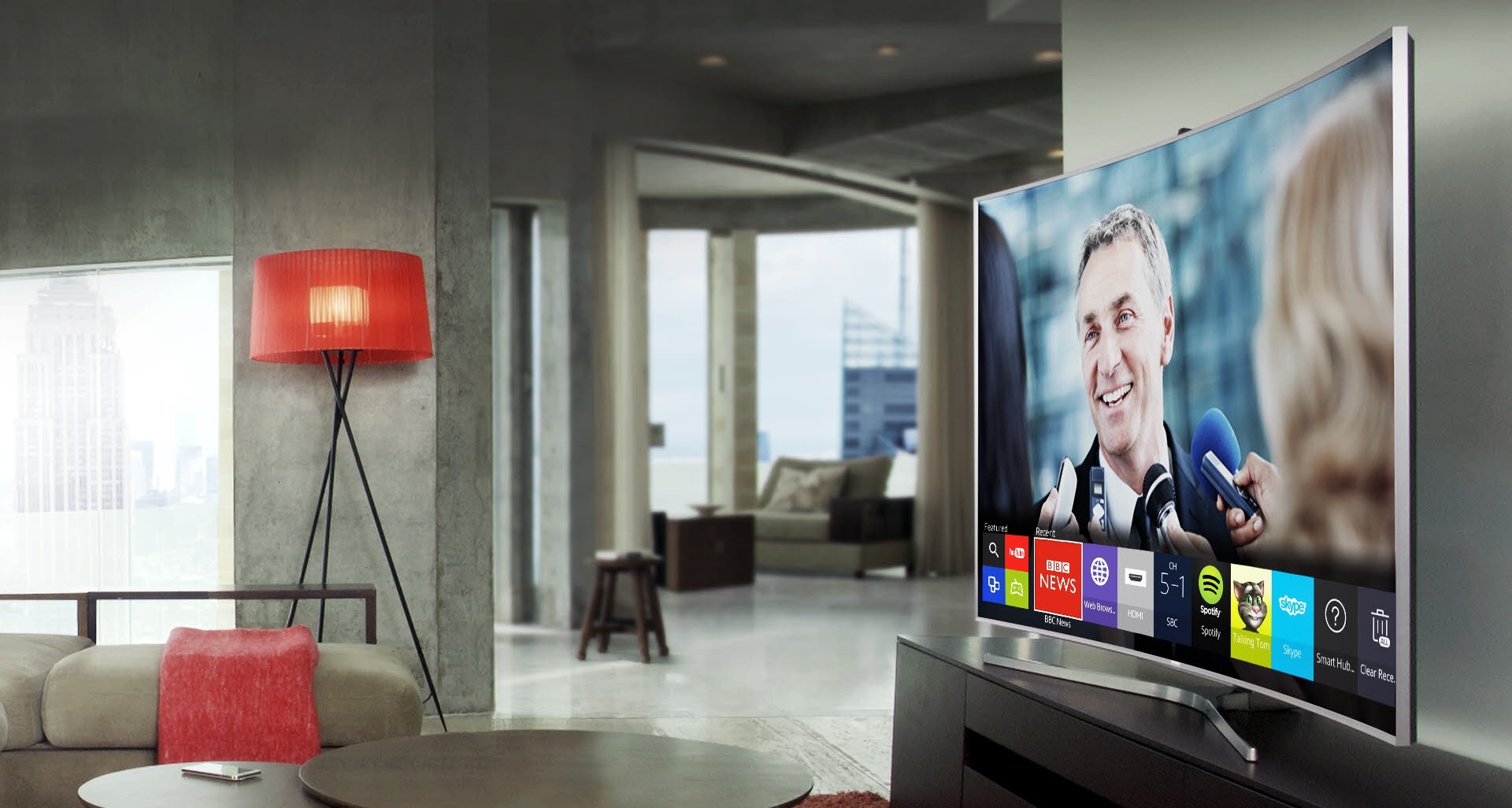 Connecting your TV and mobile has never been easier or more fun
Samsung's new Smart TV connects with your mobile so easily to open up a whole new world of fun and useful features that can really make a difference in your life. Your TV can wake up when you do, with all the info you need to start your day right, like your schedule and the weather. With just one click, you can share content from your mobile to your big screen, or even from your TV to your smartphone so you can go mobile in your house and not leave your TV show behind. It's so easy, and it's always ready.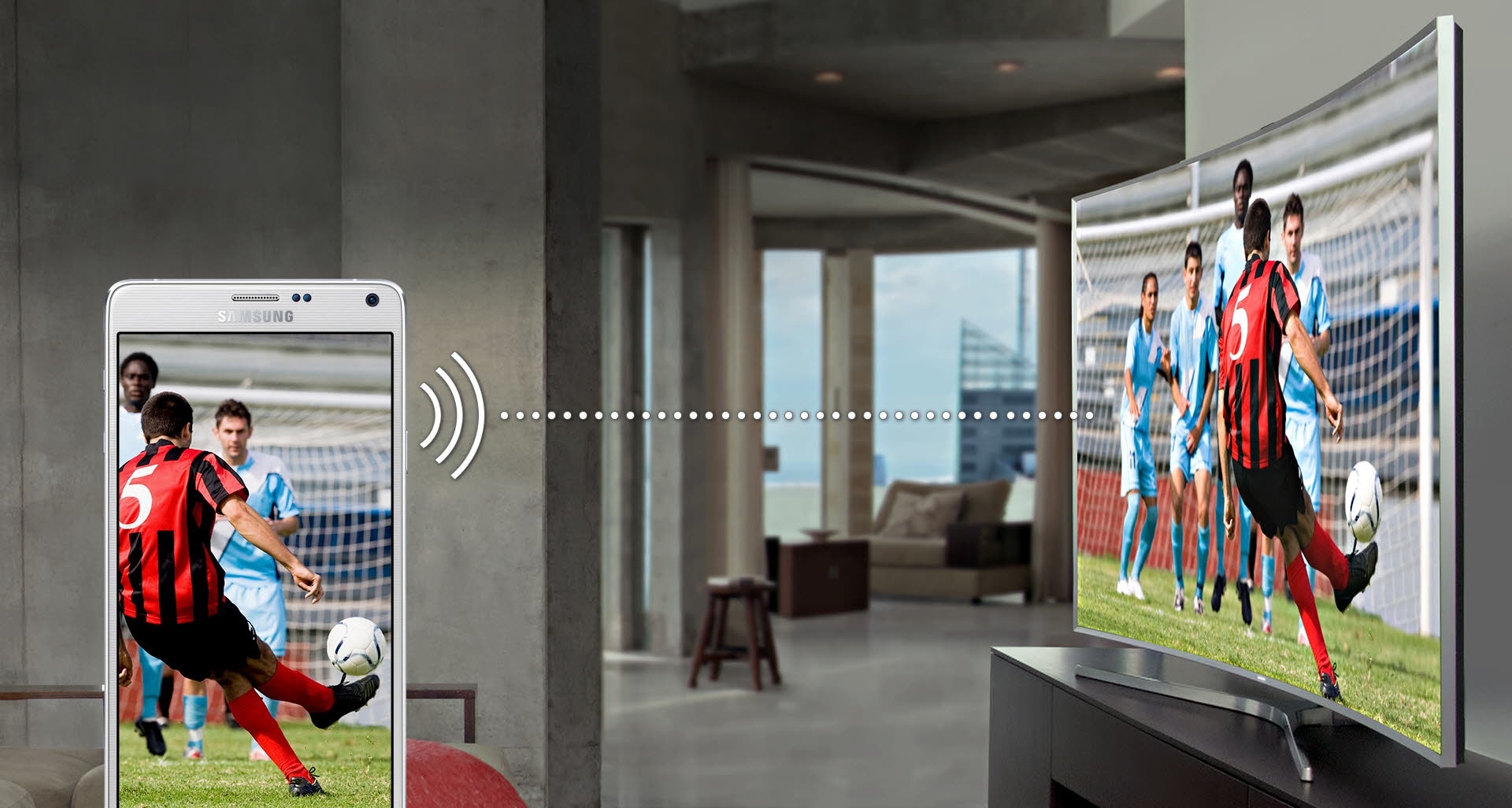 *Function compatibility limited to certain television models and mobile devices. Please speak to a sales representative for details.
Your TV and mobile devices in perfect sync
Samsung Easy Sharing makes it easy to share content between your TV and mobile effortlessly. Whether it's a fun video on your smartphone you want to share with family, or that must-see TV show you were watching on the way home that just has to get on the big screen so you can free your hands. Samsung Smart TV picks up the signal when your device is close and seamlessly plays the content in the optimal resolution for the big screen. It works the other way around, too, letting you go mobile right away so you can freely move about your house while viewing your favourite content on your device. Perfectly seamless and perfectly in sync.
*Function compatibility limited to certain television models and mobile devices. Please speak to a sales representative for details.
Get your TV to brief you every morning
Do you reach for your smartphone every morning to check the time and your schedule, and then turn your TV on to check the weather and news? Now, you can start the day with a personalised daily brief on your Samsung TV that takes care of all of them, on a big screen. Working in sync with the alarm set on your smartphone, your Samsung TV will automatically turn on and give you all the information you need to get your day started fresh. Meeting? Umbrella? Anniversary? Check, check and check.
* Screen image seen here is a representation only. Actual user interface may differ. ** Content, TV services and capabilities pictured may not be available in all regions and territories. *** Your TV will display the last channel viewed **** Function compatibility limited to certain television models and mobile devices.
A smarter TV that gets you right to your content instantly
Your gateway to the all-new, smarter TV experience is right at the bottom of the screen, so you never lose sight of your current entertainment. The fun-to-use Smart TV menu bar gives you faster, smoother and truly intuitive access to all the content you love. There's no need to fumble around searching for the content you want—it remembers your history, placing your most frequently used content right before your eyes on the menu bar so it's easier than ever to find your favourite content. You can even explore exciting new kinds of content, because Samsung Smart TV continuously recommends new featured content that you may enjoy. Discover the most seamless Smart TV experience yet.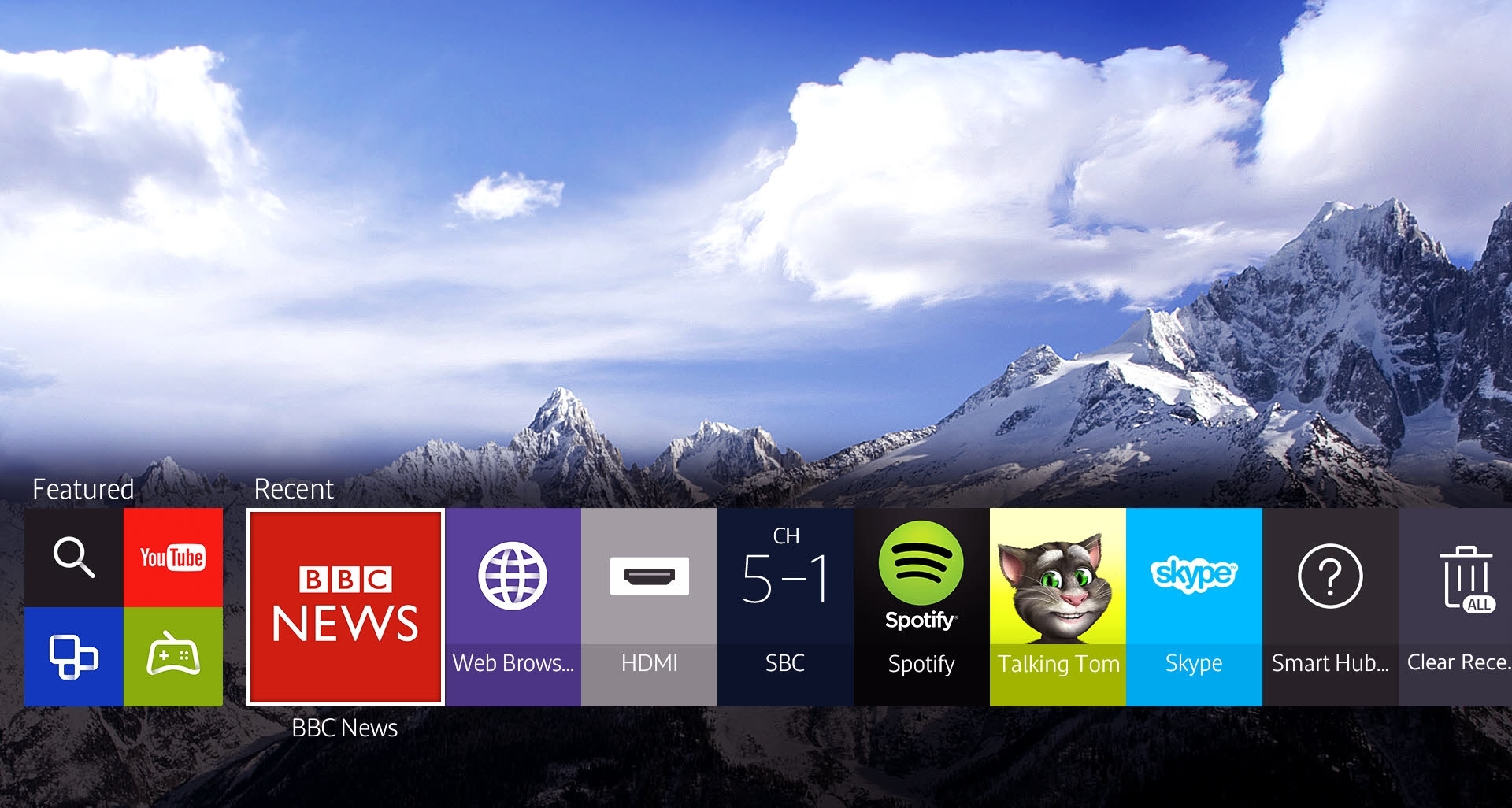 * Requires Internet access. May not be available in all languages and areas. ** Screen image seen here is a representation only. Actual user interface may differ. *** Content, TV services and capabilities pictured may not be available in all regions and territories.
Content that suits your lifestyle
Samsung Smart TVs are designed to give you what you really want and match your lifestyle, with smart apps that make life at home more fun and full of great experiences. Chefs will love the food app, while sports fans will cheer the dynamic new sport app. It also has a fitness app for those who want to stay in shape, an art education app that's great for kids, and a next-level gaming app that gamers will rave about, with a wide range of titles to choose from and easy pairing with your mobile or wearable as a controller. This is just the beginning of the amazing customised contents and services you can expect.
Instantly switch back and play right from where you left off
What's the point of having all those apps and features on a smart TV if they are hard to use? With Samsung Smart TVs, switching between various kinds of content is now as easy as changing your TV channel. Instantly and seamlessly switch to live TV while watching a video online, and the other way around. And when you return to your video, Samsung Smart TV remembers your activity and picks up and plays your video from right where you left off. It's time to enjoy a truly smart home entertainment experience.
* Screen image pictured is a representation and may not reflect actual user interface. * Content, TV services and capabilities pictured may not be available in all regions and territories.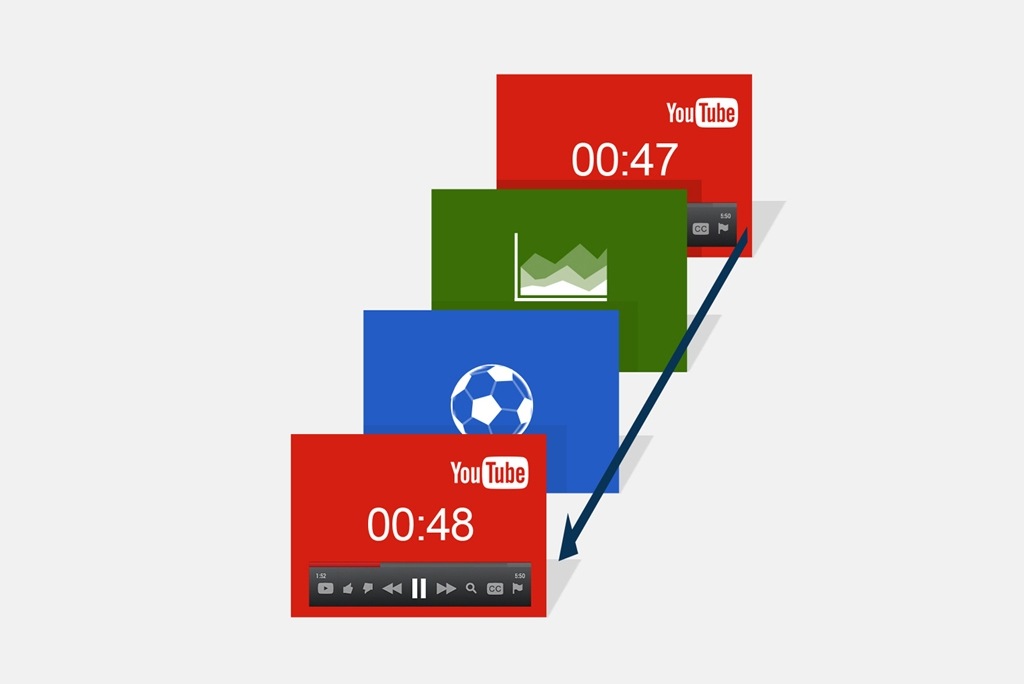 Experience life-enriching apps on your Smart TV
Content is everything, and Samsung Smart TV has you fully covered. Enjoy tons of amazing apps and surf the web to your heart's content in the most seamless, intuitive way possible. Simply swipe left or right to view customised app recommendations, new featured apps and more, all at a glance. It even has an improved web browser app that gives you quick access to popular websites in your region all with a single click of a button, and without having to type in the URL.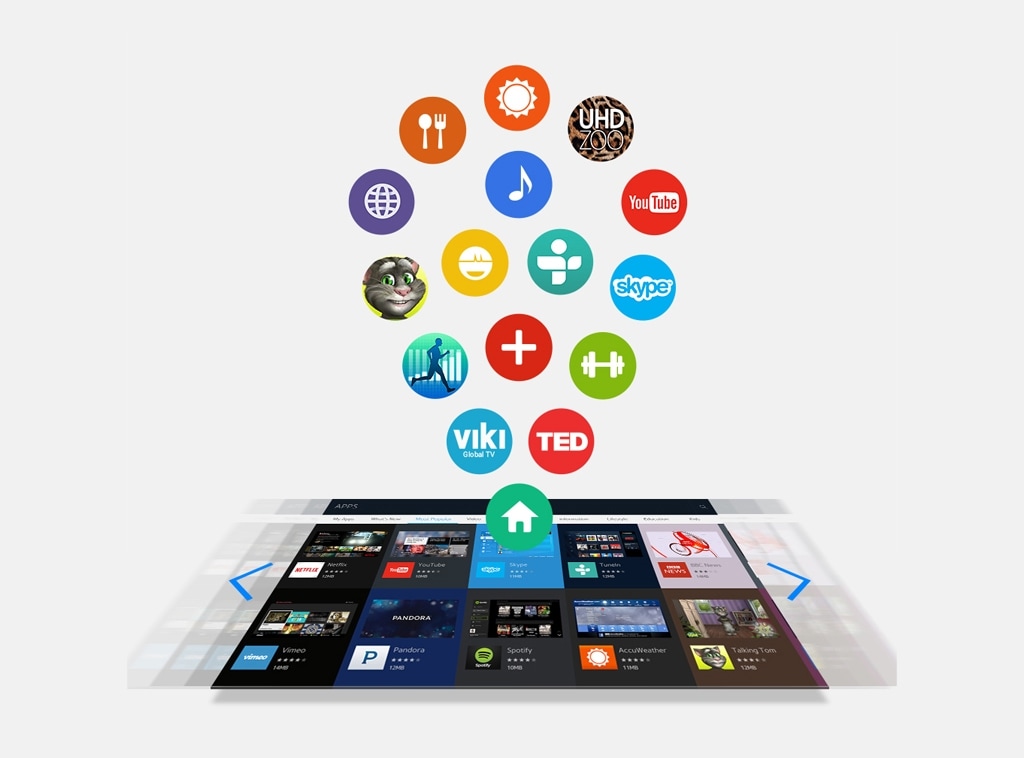 Powerful Quad Core processor for faster performance
Thanks to a powerful Quad Core processor, your Samsung Smart TV offers enhanced performance. You'll notice the difference straight away, with faster multitasking and switching between content and web browsing, as well as smoother interaction. With this extra power, your entertainment experience will be so much more enjoyable, with less waiting and more viewing.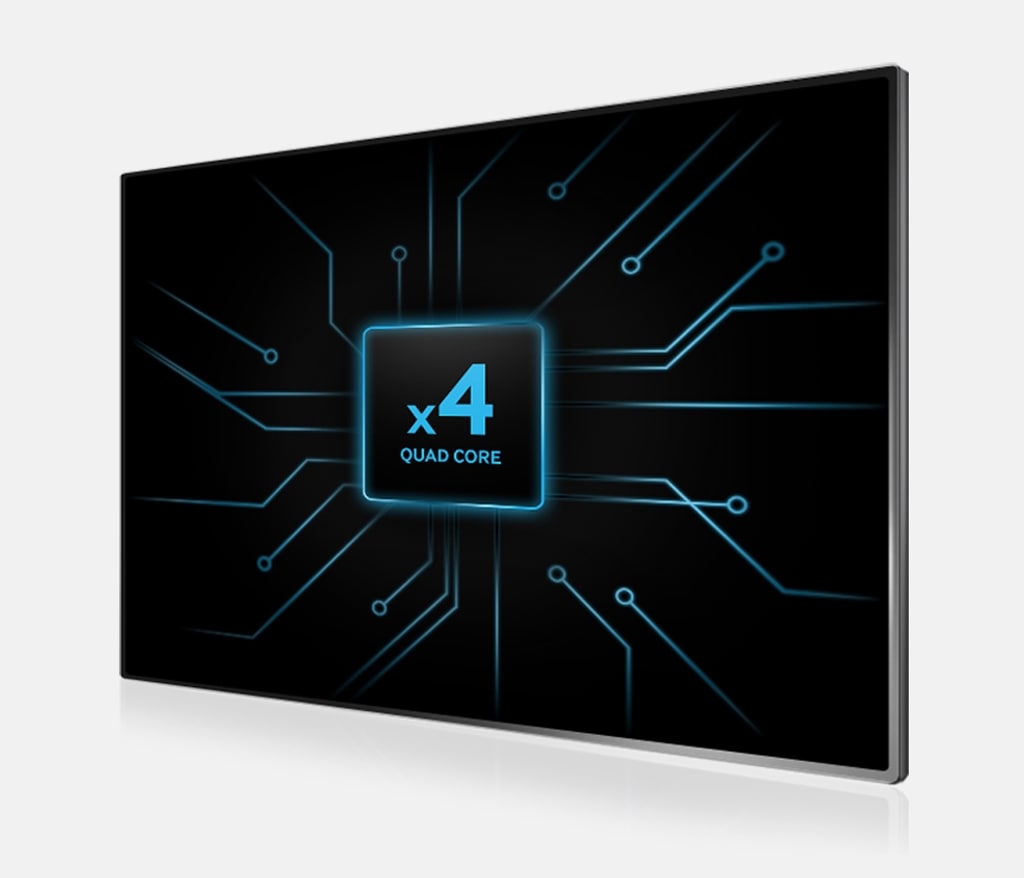 More vibrant colours for better images
Using an advanced picture quality improvement algorithm, Samsung's Wide Colour Enhancer drastically improves the quality of any image and uncovers hidden details. Now see colours as they were meant to be seen with Wide Colour Enhancer.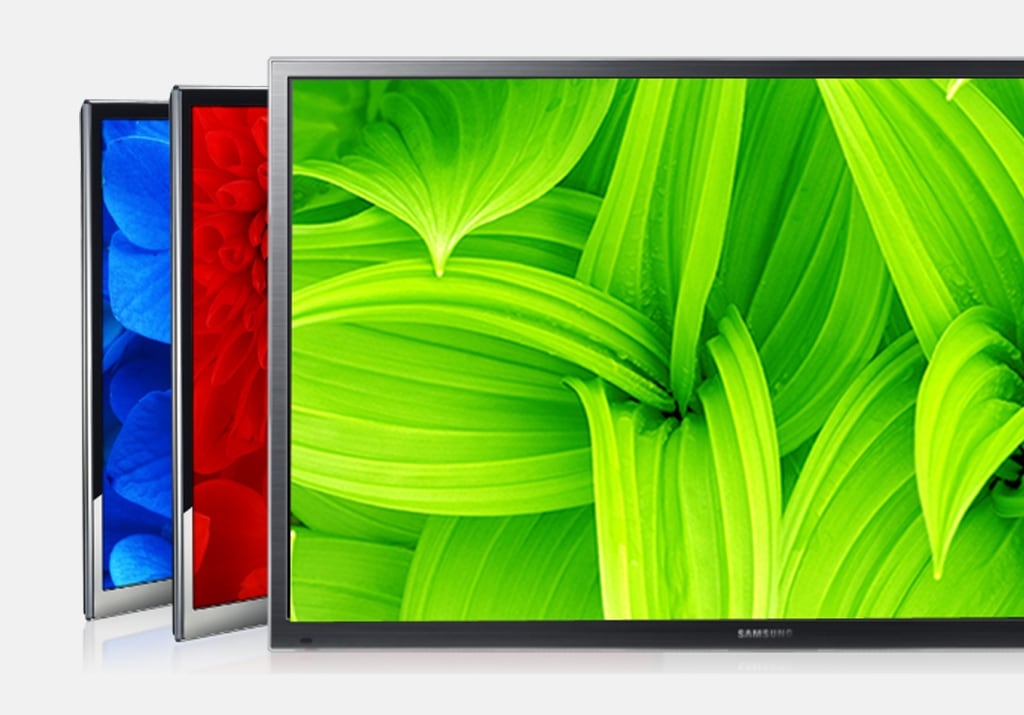 Clear Motion Rate minimises motion blur
Thanks to Samsung's advanced Clear Motion Rate (CMR) technology, even fast moving scenes are delivered with clarity. A higher CMR means clearer viewing and less motion blur, so you can enjoy action films, sports and other entertainment at their very best. This technology is possible due to an enhanced panel refresh rate, image processor speed and backlight technology. That means viewing that's clearly better.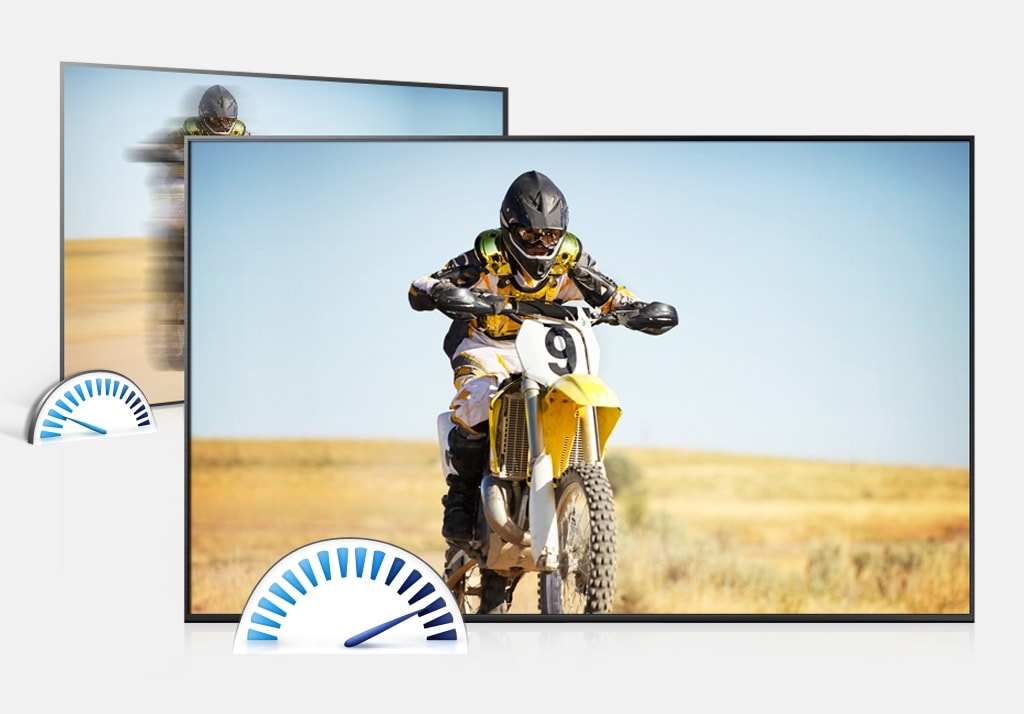 Bringing a full multimedia experience into your living room
With High Definition Multimedia Interface (HDMI) inputs, the Samsung TV will transform your living room into a multimedia entertainment centre. HDMI provides high-speed transmission of high definition digital data from multiple devices straight into your TV.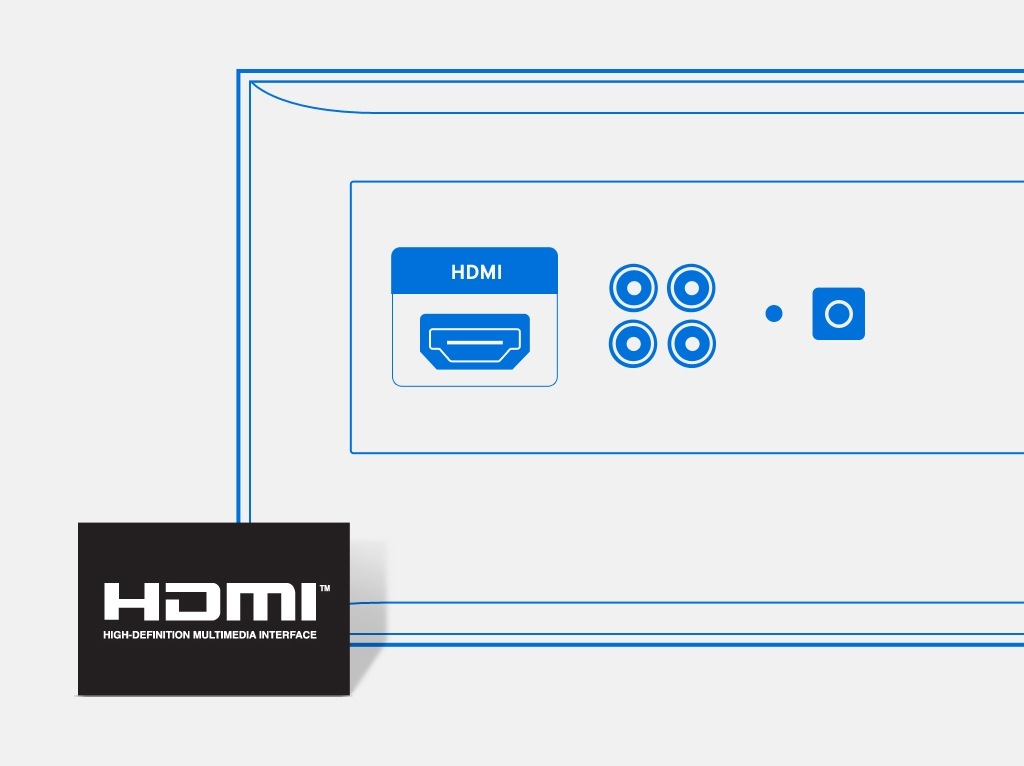 Watch movies from your USB
With ConnectShare Movie, simply plug your USB memory drive or HDD into the TV and instantaneously enjoy movies, photos or music. Now, you can experience a wide variety of content in the comfort of your living room on your TV.
* Supported formats include AVI, ASF, MP3, JPEG and others. See manual for f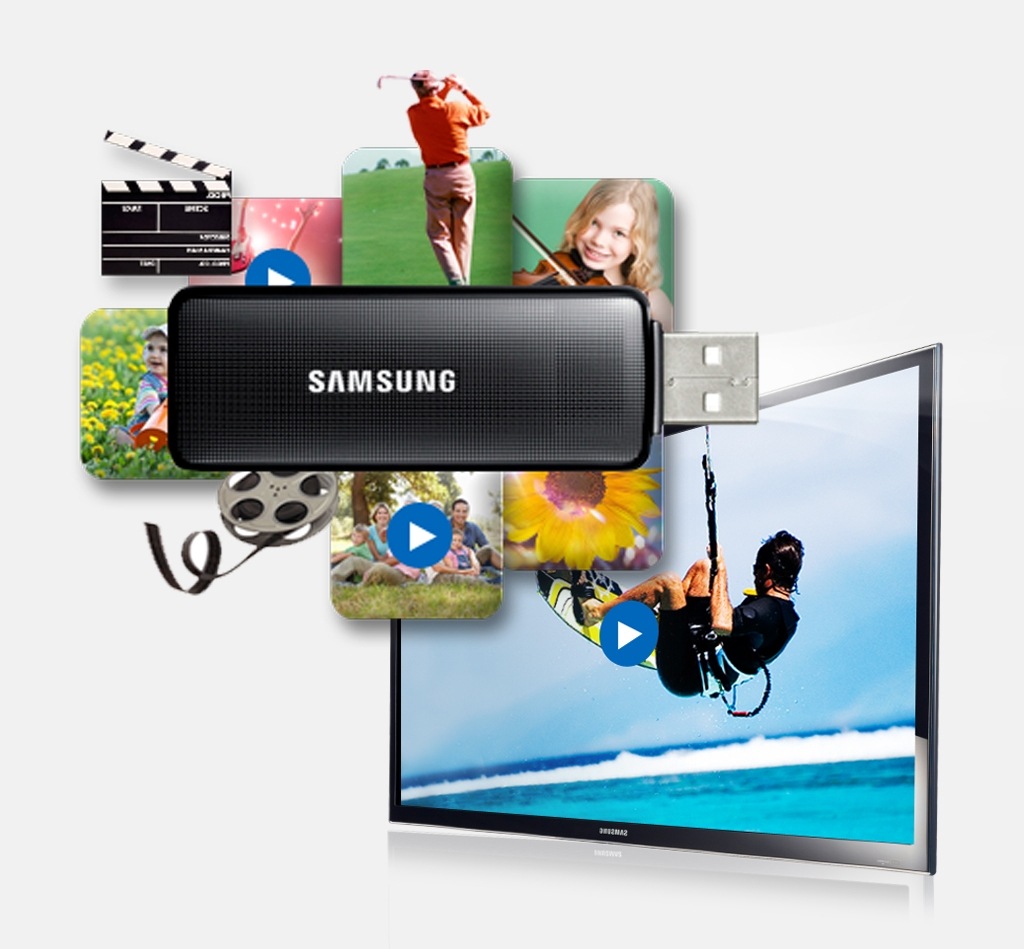 Access the Internet without wires
With Wireless LAN Built-in, streamline your TV's connectivity capabilities without adding more external devices and maintain its attractive design.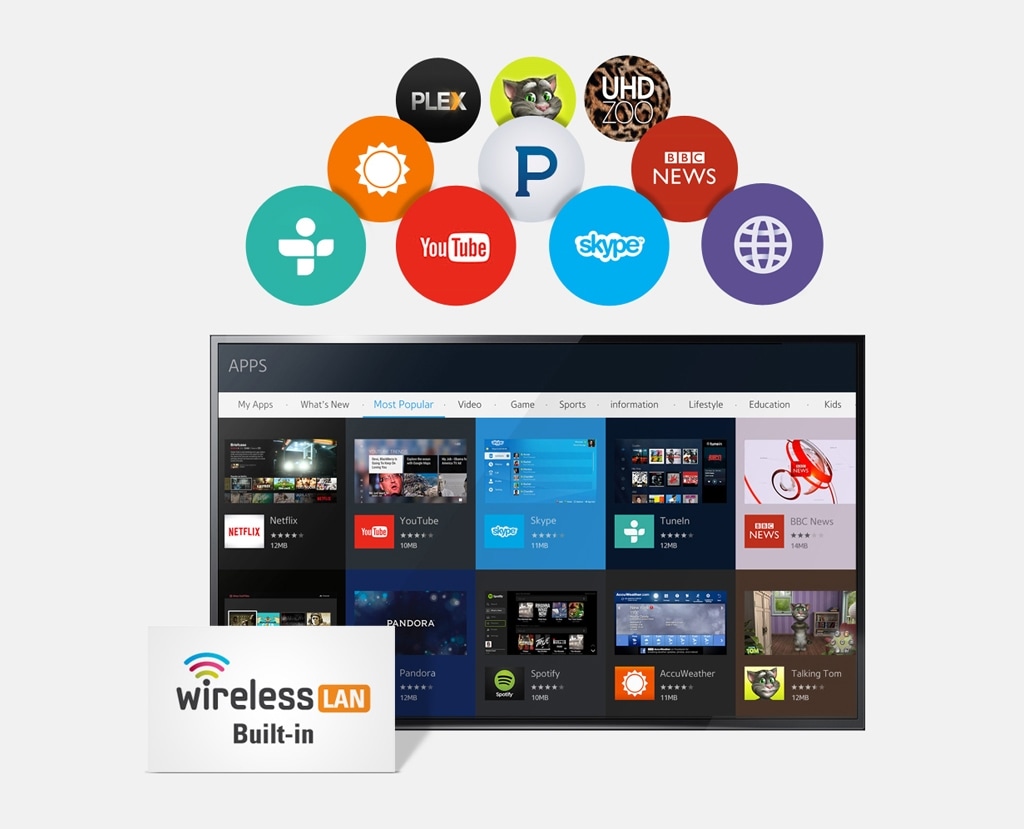 ---
Series

6

Display

Screen Size

55"

Resolution

1920 x 1080

Screen Curvature

4,200 R

Video
Picture EngineHypereal
Motion Rate100
Dynamic Contrast RatioMega Contrast

Clear Motion Rate

200

Micro DimmingMicro Dimming Pro

Wide Color Enhancer (Plus)

Yes

Auto Depth Enhancer

Yes

Auto Motion Plus

Yes

Film Mode

Yes

Natural Mode Support

Yes

Audio
Dolby Digital PlusYes
Virtual SurroundDTS Studio Sound
DTS CodecDTS Premium Sound 5.1
Sound Output (RMS)20 W (L: 10 W, R: 10 W)
Speaker Type2CH(Down Firing + Base Reflex)

HD Audio

Yes

Wallmount Sound Mode

Yes

Multiroom Link

Yes

TV SoundConnect

Yes

Smart TV

Samsung SMART TV

Yes

AppsYes
Convergence

TV to Mobile - Mirroring

Yes

Mobile to TV - Mirroring, DLNA

Yes

Samsung SMART ViewYes

Wireless TV On - Samsung WOL

Yes

Notification - BLEYes
Briefing On TVYes
WiFi DirectYes
Differentiation

Analog Clean ViewY

es

Sports ModeAdvanced
Tuner/Broadcasting

Digital Broadcasting

DVB-T2

Analog Tuner

Yes

Connectivity

HDM

I4

USB

3

Component In (Y/Pb/Pr)

1

Composite In (AV)1 (Common Use for Component Y)

Ethernet (LAN)

1

Audio Out (Mini Jack)

1

Digital Audio Out (Optical)

1

RF In (Terrestrial / Cable input)1 / 1 (Common Use for Terrestrial) / 0

MHL

Yes

HDMI A / Return Ch. Support

Yes

Wireless LAN Built-inYes

Anynet+ (HDMI-CEC)

Yes

Design
DesignBottom Metalic Curved

Bezel Type

VNB

Slim Type

Slim

Front Color

Black

Stand Type

V Type

Additional Feature

Instant On

Yes

Processor

Quad

AccessibilityEnlarge / High contrast

Digital Clean View

Yes

Auto Channel Search

Yes

Auto Power Off

Yes

BD Wise Plus

Yes

Caption (Subtitle)

Yes

Connect Share™ (HDD)

Yes

ConnectShare™ (USB 2.0)

Yes

Screen Capture

Yes

Sound Capture

Yes

Embeded POP

Yes

EPG

Yes

Extended PVR

Yes

Game Mode

Yes

OSD LanguageLocal Languages

Picture-In-Picture

Yes

BT HID Built-in

Yes

USB HID SupportYes

Teletext (TTX)

Yes

Time Shift

Yes

Ultra Clean View

Yes

Eco Feature

Eco Sensor

Yes

Energy Efficiency ClassA+
Mercury Content0 mg

Lead Presence

Yes

Power
Power SupplyAC100-240V 50/60Hz
Power Consumption (Max)163 W
Power Consumption (Stand-by)0.40 W
Power Consumption (Typical)84.0 W

Peak Luminance Ratio

81 %

Dimension
Package Size (WxHxD)1427 x 848 x 195 mm

Set Size with Stand (WxHxD)

1239.1 x 781.6 x 310.5 mm

Set Size without Stand (WxHxD)

1239.1 x 715.8 x 113.7 mm

Weight

Package Weight

21.9 kg

Set Weight with Stand

17.1 kg

Set Weight without Stand

16.1 kg

Accessory

Remote Controller Model

TM1250A

Batteries (for Remote Control)

Yes

Mini Wall Mount Support

Yes

Vesa Wall Mount Support

Yes

User Manual

Yes

E-Manual

Yes

Power Cable

Yes

· USB HID Support
Yes
· Teletext (TTX)
Yes
· Triple Protector
Yes (Pakistan only)
Eco Feature
· Energy Efficiency Class
N/A
· Mercury Content
0.0 mg
· Lead Presence
Yes
Power
· Power Supply
AC100-240V 50/60Hz
· Power Consumption (Max)
110 W W
· Power Consumption (Stand-by)
0.5 W W
· Power Consumption (Typical)
48.0 W
· Peak Luminance Ratio
72%
· Yearly Power Consumption (EU standard)
69 kWh
Dimension
· Package Size (WxHxD)
1261 x 741 x 161 mm
· Set Size with Stand (WxHxD)
1098.7 x 702.8 x 265.7 mm
· Set Size without Stand (WxHxD)
1098.7 x 638.7 x 73.9 mm
Weight
· Package Weight
13.3 kg
· Set Weight with Stand
9.8 kg
· Set weight without Stand
9.5 kg
Accessory
· Remote Controller Model
TM1240A
· Batteries (for Remote Control)
Yes
· Mini Wall Mount Support
Yes
· Vesa Wall Mount Support
Yes
· User Manual
Yes
· E-Manual
Yes
· Power Cable
Yes
No customer comments for the moment.